Career Placement
A valuable experience that prepares students for the opportunities that lie ahead.
We are invested in preparing and equipping our students to pursue their aspirations whether it is transitioning to a new career or pursuing an advanced degree.
Where are our alumni now?
2014-2018 Systems Medicine Alumni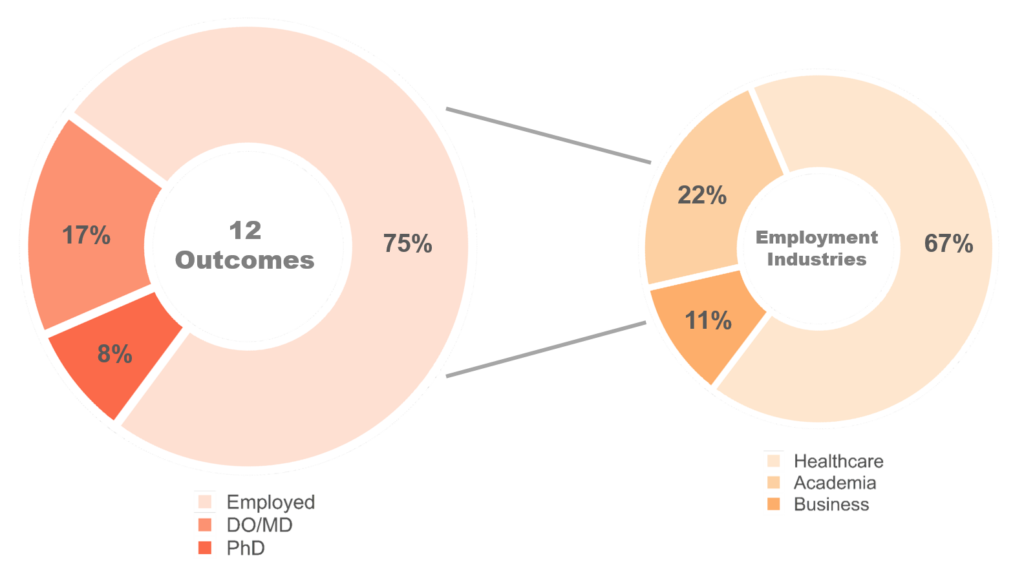 Top Employers
Most frequent companies our alumni worked for.
American University, Kogod School of Business
Children's Hospital of Pittsburgh
Cornell University
Capitol Hill
Georgetown University
Johns Hopkins University
ICBI
Inova Health System
L.E.K. Consulting
Library of Congress
MedStar Hospital
Memorial Sloan Kettering Cancer Center
Uniformed Services
Advanced Degree Schools
The most frequent advanced degree schools our alumni attended, as well as some notable ones.
Emory School of Medicine
Children's Hospital of Pittsburg
Columbia School of Nursing
Georgetown University
SUNY Buffalo
University of Maryland Baltimore Campus
University of Texas Medical Branch
---
Alumni Testimonials
---
"Studying Systems Medicine was one of their best decisions I have made for my medical career. The Georgetown Community and resources made available are a true privilege and second to none. The faculty of this program is extremely considerate and invested in not only student success during the program but also the long-term success and fulfillment of student goals. As a current medical student Systems Medicine has advanced the way that I am able to consider and understand the material I learn. Thinking about medicine in the context of big data, and regarding the social and ethical issues that face the field with an understanding of a systems perspective allows me to have a unique point of view.
This program has majorly shaped my aspirations in practicing medicine and has opened up doors to amazing opportunities, networks of people, and lasting relationships with mentors and classmates. During medical school interviews, my studies were a major topic of interest and discussion because this program made me stand out as a candidate, by offering me a perspective that is unique to Systems medicine students. As technology and the data that follows rapidly advances and accumulates systems medicine is more and more so necessary for health professionals to serve efficiently and optimally. Bridging the gaps between disciplines, operating platforms, and issues is the power that comes with systems medicine. Understanding patients thoroughly on a scientific basis through the "omics" such as genomics, metabolomics allows us to advance our ability to truly deliver precision medicine. I am forever thankful and connected to my Systems Medicine family!"
Brandon Buonaiut '19, MS in Systems Medicine
---
"In the traditional curriculum, medical students are not being trained to meaningfully interpret the 'big data' that is generated from advanced clinical informatics and '-omics' technologies. I decided to study Systems Medicine in order to be prepared to serve my patients in this data-rich biomedical and clinical environment. Every oncologist and pathologist, and many other types of physician-scientists, will need this training in the near future. For the good of our patients, physicians like me will need to make sense of this data when it crosses our desks…"
Sister Grace Miriam Usala '16, MD/MS in Systems Medicine
---