Director's Message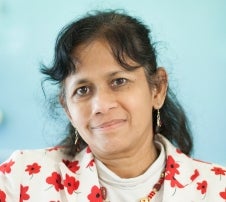 Sona Vasudevan, Ph.D.
Program Director, Systems Medicine
Biomedical Graduate Education
Why Systems Medicine?
We are amid the "Big Data" era of biology. It all started in the '50s with the discovery of the double-stranded structure of DNA by Watson and Crick, followed by the sequencing of the human genome in 2003. With the sequencing of the human genome and availability of high-power computational methods and various high-throughput technologies, biomedical sciences and medicine are undergoing a revolutionary change. The new field of systems medicine is the application of systems biology approaches and tools to biomedical problems.
In medicine and today's fast-paced health care delivery environments, complex computational tools will become essential for deriving personalized assessments of disease risk and management, including individualized diagnosis, prognosis and treatment options. As a leader in medical science and clinician education, Georgetown University Medical Center has developed graduate and medical curricula and is expanding research in this cutting-edge area. We have developed new and innovative courses geared toward training the next generation of biomedical scientists, physicians and health care providers. A dual degree program, M.D./M.S. in Systems Medicine, launched successfully in Fall 2011. In Fall 2016, building on the success of the dual degree program, we launched the first-of-its-kind freestanding M.S. in Systems Medicine.