How to Apply
Get more information on how to apply to the Systems Medicine degree program.
The System Medicine Master of Science program requires an online application to be submitted to the Biomedical Graduate Education through the Georgetown Graduate School of Arts and Sciences application portal. Application elements, including letters of recommendation, must be submitted through the online application system. Only transcripts and test scores should be submitted independently by the applicant's previous academic institution(s) and testing agency.
Application Requirements
Applicants are to submit all required credentials and supporting documentation no later than the application deadlines listed below. Applications are reviewed on a rolling, space available basis. You can begin the application process at any time and save your progress until you are ready to submit your completed application.
Application Checklist
4-year Bachelor's degree*
Grade point average of 3.0 or higher
2 Letters of Recommendation
Academic Statement of Purpose
Non-refundable Application Fee
GRE Score (not required)
Georgetown Univ. Code for BGE: 5244
TOEFL/IELTS Score (if applicable)
TOEFL: Georgetown Univ. Code for BGE: 5244
IELTS: Georgetown Univ. Graduate School of Arts & Sciences
Application Deadlines
Application is due July 1st for Fall Admission
Application is due November 1st for Spring Admission
Please contact the program director if you wish to submit an application after the deadline. Late applications are reviewed on a space-available basis.
*We highly encourage students with international credentials to have their transcripts evaluated by WES. Please select "Biomedical Graduate Education" as recipient.
MD/MS Dual Degree Application only available for Georgetown SOM Students
In addition to the requirements listed in the Application Requirements section, the MD/MS Dual Degree Program requires applicants to be in their second or third year of Georgetown University medical school and schedule an informational interview with the Dr. Sona Vasudevan, Program Director of System Medicine, before applying.
Ledley Scholarship Fund
The fund is established by National Biomedical Research Foundation and the Ledley family in memory of Dr. Robert S. Ledley, a visionary scientist, inventor of the first whole-body CT scanner, and a pioneer of computer medicine and medical informatics.
Additional Information
Transcripts
Transcripts are required from every institution you have earned credits and grades, including both degree and non-degree coursework. This allows the admissions committee to have a more complete picture of your academic preparation for graduate study.
You must upload electronic or scanned copies of your transcripts (as detailed below) into the application portal for review by the admissions committee; do not order official transcripts to be sent directly to us from your institution(s) until you receive an official offer of admission.
An acceptable transcript upload is a copy of an official transcript produced by the institution. This includes:
Scanned copies of paper transcripts issued by the institution.
Electronic transcripts issued by the institution (not a download from your institution's web portal).
Transcript formats we do not accept include the following:
We do not accept screenshots or photos.
We do not accept downloads of the "student's view" from your institution's website.
Samples of Acceptable vs. Unacceptable Transcripts for Applications Submission: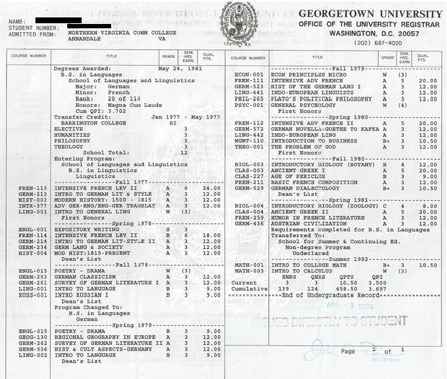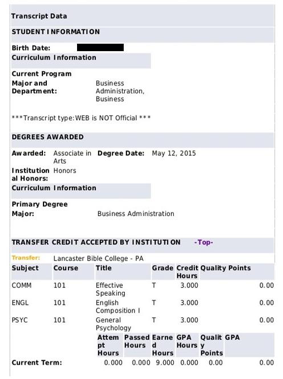 For Transcripts Not in English:
These documents must be accompanied by an English language version provided by the academic institution. If your institution does not provide English language copies, applicants are responsible for providing a certified or notarized translation along with a copy of the original transcripts. Applicants may upload an evaluation from a credential evaluation service. This must include course and grade information. If not included in the evaluation, the transcript from the institution must be included as well. Both the evaluation and original transcript should be submitted in the application as one document.
NOTE: Applicants who are offered admission will be required at that time to submit official transcripts for verification prior to enrolling.
For additional questions, please visit BGE Admissions FAQ.
TOEFL/IELTS Examination
TOEFL: Georgetown University Code is 5244. The minimum TOEFL score for admission is 80 (Internet-based test) and 550 (paper test).
IELTS: Select "Georgetown University Graduate School of Arts and Sciences." The minimum IELTS score for admission is 7.0.
All applicants are required to demonstrate a level of proficiency in the English language sufficient to meet the admission requirement of the Graduate School of Arts and Sciences. Proficiency can be demonstrated by the receipt of a bachelor's or advanced degree from an accredited institution of higher education in the United States or from a university where English is the primary language of instruction (please note that applicants receiving degrees at universities in U.S. territories, such as Puerto Rico, are required to submit the TOEFL or IELTS unless the primary language of instruction at the institution is English).